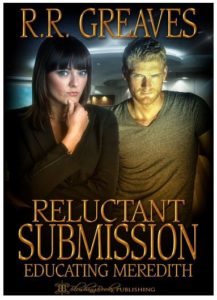 How many of us cannot honestly say we would like to see either our current or some of our previous bosses get their overdue comeuppance?
Meet Meredith, the despotic, man-hating but successful CEO of Danforth Enterprises. Her employees work harder at avoiding her than they do most anything else. However, her long-suffering PA, Penelope simply cannot avoid her wrath.
Enter the enigmatic Damien Franks, contracted by Penelope to renovate her boss's executive bathroom. Damien has other skills and Penelope knows what they are. Taking pity on Penelope, and finding the feisty CEO strangely attractive albeit challenging, he sets out to tame the beast that is Miss Meredith Smythe. The renovation of Miss Smythe will require every skill and all the patience this accomplished Dominant possesses. But, with the help of a friend, and a few tools of the trade, Damien is confident that he can bring out the best in his new client and save Penelope from even further humiliation and anguish. But can he?
Despite her resistance, Meredith finds herself increasingly unable to resist Damien as she is drawn further into his web.
This is a story of dominance and submission; of power and control. It is not for the faint hearted as it takes the reader into the murky but highly erotic world of BDSM.
For more exciting titles from this best selling author, go to www.rrgreaveseroticauthor.com and get some spice into your reading life.
Buy it Now!
Blushing Books, Amazon, Barnes and Noble
EXCERPT
As she approached him, Meredith did not feel anywhere nearly as confident as she looked. She stopped beside the spare seat at his booth and he rose, extending his hand to greet her. She clutched his hand firmly, shaking it vigorously to try and mask her nerves. She noticed there were two glasses of wine on the table – a white was in front of him and a red was opposite. He saw her look at it and said, "Argentinian malbec." She looked back at him, unable to mask her surprise. How did he know she liked South American reds, malbecs in particular?
There was another pregnant pause before she could stand it no longer. "Well, you set the time and the venue. Do you intend to invite me to sit down?"
He was studying his wine without looking at her. Just as she was about to turn and leave he said, "I'm considering it. Kneel down on the floor for a few moments Miss Smythe, and I will give you my answer."
She was aghast. She erupted, speaking through gritted teeth. "You arrogant, self-centered misogynist. What in the world do you think gives you the right to abuse women in your company, treating them like mere objects for your pleasure?"
He looked her in the eye and replied evenly, "On the contrary, I have a great deal of respect for all women. I treat them the way I believe they want to be treated – deep down inside. Sometimes they do not yet know this about themselves or are not willing to admit it, but I help draw it out of them. You, Miss Smythe, are just beginning the journey. You came in here prepared to do whatever it took to get the upper hand. I am sure you were determined to charm the pants off me, but your strategy was flawed because you don't understand your own needs. You are already becoming aroused. You smelled blood and it aroused you. Unfortunately, you did not realize it was your own blood you were smelling. The hardness of your nipples is obvious and I am sure that an inspection of the inside of your panties would show your inner feelings quite clearly."
"Do not play your little games with me you disgusting pig and DON'T even presume that you have the right to talk about what you believe may be happening inside my underwear." As she said it, she could feel the outward signs of arousal mixed with fear as she clenched her legs together. She tried to ignore them and pretend it was not happening. As she stood there in silence, she realized that this meeting had not gotten off to the start she had intended and that she was playing right into Damien's hands. If she was to have any chance of turning it around, she needed to think fast.
R. R. Greaves was born in Melbourne, Australia in 1958. Having lived in many parts of Australia and overseas, Greaves now resides in Sydney and she writes for fun.
With a lifelong interest in her subject matter she finally decided to put some of her experiences and fantasies into words, toning them down somewhat for public consumption. Her first book was released in mid 2014. This was followed by a new release in Feb 2015 and there are a number of new stories in different stages of production.
With a particular interest in specific forms of erotica, the stories have a lot of explicit detail that comes from years of "hands on" experience. All have a strong element of power exchange between consenting parties. While most involve a key female character submitting to a powerful male, they have a mixture of dominant characters with women submitting to other women, men submitting to women and men submitting to other men.
A key part of the exchange of power between the characters involves the use of consensual physical and mental force, BDSM and spanking.
Check out these other titles by R.R. Greaves