Out of destruction comes hope; out of silence comes profound love.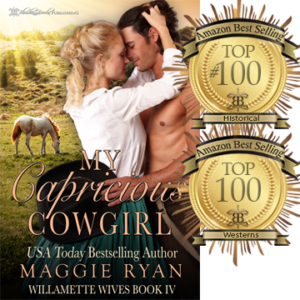 Matthew Stone is a rancher who finds his greatest pleasure in working in the great outdoors, doing his part in building the Rose Ranch in the Oregon territory. He has watched his friends wed, and accepts their teasing about his confirmed bachelorhood. All that changes the day he is out repairing fences and looks up to see a horse jumping the railing, aware of how dangerous that is, as the last fence drops away. His warning does nothing to stop the rider, and a scream has him racing down the cliff, expecting to find the worst. What he finds instead is a small boy, clinging to a boulder while the river attempts to pull him away.
Sally Jefferson has just arrived in a strange place, and her young son Davy is the only person she knows there. Devastation and heartache have followed them as they braved the Oregon Trail, and she fears that, after surviving over two-thousand miles, she won't survive another moment when Davy's life is threatened.
The moment Matthew and Sally meet is like an echo of the storm that drove her from her home, as lightning seems to strike between them.
Matthew never expected to fall in love. Now he finds himself head over heels not only for Sally, but for a boy who doesn't speak and yet has stolen his heart.
Will Matthew be able to convince Sally that life can begin again? Will the fact that his very touch ignites her soul be enough to allow her to accept not only his love, but his discipline?
My Capricious Cowgirl is the fourth book in the Willamette Wives series about a group of pioneers who are building their dreams together and sharing in both the burdens and the joys. They are far more than friends… they are a family. Though this is the fourth book, it can be read as a standalone.
Publisher's Note: This book contains explicit sexual content, including spanking and anal play. If any of these offend you, please do not purchase.
EXCERPT
Not seeing Matthew, she moved towards the door.
She found him and Davy outside. The two were… no, certainly not! "David Tanner Jefferson, please tell me you are not spitting in the street!"
The little boy whirled around, his lips pursed, evidently caught only a moment before he spat again.
"Oops," Matthew said, spitting what appeared to be a seed into the street. "It's my fault. I challenged him to a seed spitting contest while we waited." He held up what remained of an apple core.
"I see," Sally said, shaking her head. The look on her son's face had her smile. "Go ahead, spit it out but do it politely."
Davy turned and bent forward, spitting the seed onto the ground in front of his feet instead of attempting to beat the distance of Matthew's last seed.
"Ready to eat?" Matthew asked, drawing her attention back to him, reaching for something he'd left leaning against a pillar.
Seeing the fishing pole, she shook her head. "I didn't think we were going to have to catch our lunch, today, Matth… um, Mr. Stone." Pulling out a hankie edged in lace from her pocket, she attempted to cover her slip of calling him by his Christian name by dabbing a corner of the linen with her tongue and then reached out to wipe her son's chin where a bit of drool had dribbled. She ignored both Davy's attempt to pull free of her hold as well as Matthew's chuckle.
"Keep laughing and I'll be wiping your mouth next," she warned without thinking, unable to keep from grinning when he also pulled back, his head shaking.
"Not gonna happen. I remember exactly how I felt when my ma used to do that," he said, pulling a bandana from his pocket and wiping his own mouth. Stuffing it back into his pocket, he grinned. "We'll get you your own bandana," he told Davy as he once again swooped him up.
"Seems like your ma doesn't approve of our plan, buddy," he said, settling the boy on his shoulders. "How about we take her to a fancy restaurant today and then maybe she'll cook up all that trout we'll be catching?"
Sally knew she should protest, should state Davy could walk, but seeing her son's face, his eyes bright, his dark head nodding, his hands clasped about Mr. Stone's neck, she just didn't have the heart to do so. Instead, she smiled and said, "Only if you do the cleaning." Something had her adding, "Of the fish and the dishes afterwards."
"Deal," Matthew said, giving a soft whistle that had King rising from where he'd been lying, following a few paces behind.
Amazon: http://amzn.to/2jnaTKd
B&N: http://www.barnesandnoble.com/w/books/1124986604?ean=2940157047245
Apple: https://itunes.apple.com/us/book/my-capricious-cowgirl/id1168363940?mt=11
Kobo: https://store.kobobooks.com/en-us/ebook/my-capricious-cowgirl
MAGGIE RYAN:  A USA Today and #1 international best selling author, I have been writing stories as long as I can remember. I enjoy writing both contemporary erotica as well as historical books set in ages past. I love developing characters that are able to tell their own stories. My heroines are multi-faceted women who are strong, intelligent and capable in their own right but find a deep need to share their lives with those strong, sexy and dominant alpha males that capture their hearts. My heros recognize the gift of submission for the gift it is, loving and protecting the women that offer that gift. I enjoy sweet, romantic stories with just a taste of domestic discipline as well as one that explore the harsher D/S lifestyle. I also enjoy writing age-play stories set both in Victorian era where women didn't have a great deal of power in their lives as well as in today's present time where women still find their happiness is greatly enhanced in offering the gift of submission. My hope is that you settle back in your favorite chair and allow my books to entertain you and let you escape into another world.
Please feel free to contact me at: [email protected] as I'd love to hear from you.