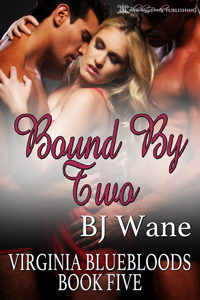 After overhearing her husband and doctor plotting against her, Danielle Morrison flees her home in West Virginia. A few weeks later, after finding a place to lay low for a while in Richmond, she ends up stranded in an unfamiliar parking lot one night. Two caring, protective and dominant men come to her rescue then offer her a glimpse into a lifestyle she never imagined would be for her. Soon she can't resist either man or the sexual exploration they offered her, but will her secrets jeopardize her new relationships as well as her freedom?
Dale Evans and Eli Jackson have been best friends since serving in the military together after discovering they both had a penchant for BDSM and a love of ménage in common. Neither can resist the pull of Dani's vulnerability, fear and open curiosity about their lifestyle, but their every effort to learn more about her over the next weeks is met with unbending resistance. After learning part of what she was keeping from them, they back away from her in anger and disappointment only to return too late. Will their mistake cost Dani everything, or will they come to her rescue in time to save her from her husband's threats?
DISCLAIMER: This book contains the spanking of adult women, elements of BDSM, power exchange and explicit sexual scenes. If any of these offend you, please do not purchase this book.
Excerpt:
She took a deep breath, her heart racing from the adrenaline rush of the exercise and grappling with Eli.  The thin clothing offered no protection against the hard press of his body as he maneuvered close to demonstrate the correct moves.  And her low hisses and silent glares every time he casually brushed his thumb over a nipple or made sure she felt his semi-erect cock against her butt or mound didn't faze him in the least.  His cocky grin and flirtatious wink added to the constant, sluggish flow of heat through her body.  She couldn't look away from the stunning picture of male perfection he made as she watched him grapple shirtless with the other instructor for the past fifteen minutes, his abs rippling with their moves, his muscled biceps bulging as they wrestled.  He had her in such a state, she knew she'd do whatever he wanted, and by the look on his face as he turned from locking the doors, closing the front blinds and padded over to where she still sat cross legged in the middle of the room, he wanted her.  That alone thrilled her beyond words.
Reaching a hand down, Eli hauled her to her feet and against him, the now silent gym the perfect place to reel her in.  "Have you decided if you want to return to The Warehouse tonight?"  He punctuated his question with a nip on the tender skin of her neck.
"I'm not sure," she answered in all honesty.  "What will you do?"
"Attempt to get to know you better."  Pulling her in front of him so they were facing the mirrored wall, he kept his eyes on her face in the glass as he reached down and slowly pulled her top up.
Be sure to check out the other titles in the Virginia Blueblood series while they're on sale!
Blindsided, Book 1 ($0.99)  https://www.amazon.com/Blindsided-Virginia-Bluebloods-Book-1-ebook/dp/B01E1PP5HW/ref=asa
Bind Me To You, Book 2  ($2.99) https://www.amazon.com/gp/product/B01ENS8BS2/ref=series_rw_dp_sw
Surrender To Me, Book 3  ($2.99)  https://www.amazon.com/Surrender-Me-Virginia-Bluebloods-Book-ebook/dp/B01FYLGSA0/ref=pd_sim_351_1?_encoding=UTF8&psc=1&refRID=0QY319H0MW1EAXNEGNYM
Blackmailed, Book 4 ($2.99)  https://www.amazon.com/Blackmailed-Virginia-Bluebloods-Book-4-ebook/dp/B01IFSDR08/ref=pd_sim_351_2?_encoding=UTF8&psc=1&refRID=MQ6TNTYJQG5K0R5D75B3
Connect with BJ:
https://www.facebook.com/bj.wane
https://www.amazon.com/BJ-Wane/e/B014361LC2/ref=sr_ntt_srch_lnk_1?qid=1481061592&sr=1-1