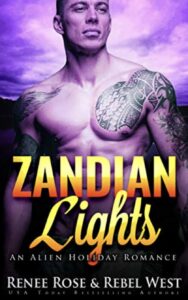 THE ZANDIANS STILL NEED BRIDES.
It's the Zandian Lights festival, and the king declared a free-for-all.
All human females may mate without petition.
Without multiple partners. Without promises.
Two warriors have pledged themselves to me,
but I can't get excited about becoming their bride.
There's only one purple-skinned male who excites me-
Mykl, my master and supervisor. The gruff male with a dislike for humans.
But I've also seen heat in his eyes, a tilt of his horns when he looks at me.
So this holiday, my only wish is to snag his attention.
And maybe even his heart.
"Mykl and Kianna have an attraction that's so thick you can cut it from their first scene together."
"Lovers of the Zandian series will be absolutely delighted at the surprise holiday release of "Zandian Lights" by Renee Rose and Rebel West."
"This is a very well written story. There are a lot of characters, all well written and complex."
Related