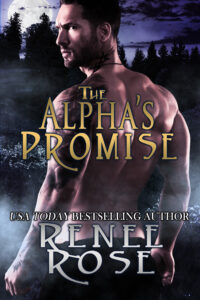 A dominant alpha. A tempting human. An impossible attraction.
After one loser boyfriend too many, Melissa Bell swore she was done with bad boys, but when her ex puts her life in danger it is a buff, tattooed, dirty-talking alpha shifter who shows up to save her. More disturbing still, her rescuer makes it clear that he regards Melissa's safety as his personal responsibly, and defying his instructions soon earns her an embarrassing spanking. Though she should be furious, her body's reaction to the tough, handsome wolf's stern dominance demands more.
It doesn't take long for Cody to wish he'd never made an alpha's promise to protect Melissa, yet for some reason he can barely control himself around her. His inner wolf craves the beautiful human in spite of her snobbish attitude and constant sass, and when she is writhing over his knee, it is all he can do not to mark her and mate her right then and there.
Each moment he spends with the alluring, feisty girl only increases his hunger for her, but Cody promised himself long ago that he would never take a human as his mate. Will his pride push Melissa away forever, just when he realizes he can't live without her?
Publisher's note: The Alpha's Promise is a standalone book set in the same world as The Alpha's Hunger. It includes spankings and sexual scenes. If such material offends you, please don't buy this book.
Related