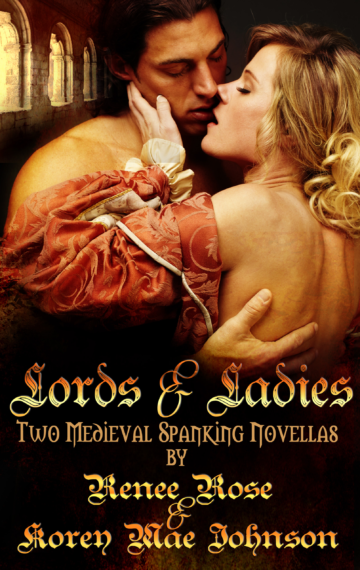 $4.95
Publisher:

Stormy Night Publications

Published:

January 20, 2013
Amazon
Barnes and Noble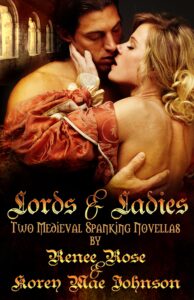 Lords and Ladies is composed of two novellas filled with medieval adventure, sweet romance, bold men, feisty women, hot sex, and firm spankings.
Mercenary by Renee Rose
With her castle under siege and her enemies on the verge of battering down the gates, Lady Camilla's situation is desperate. But when an infamous mercenary named Sir Balen unexpectedly rides to her rescue, she soon finds herself in an entirely different kind of trouble.
Though the mere sight of the devilishly handsome brute sets her heart racing, Balen's assumption of the position and duties of her late husband incenses Camilla, especially because those duties seem to include spanking her bare bottom whenever he feels it necessary.
Yet despite her blushing cheeks and burning backside, Balen's bold dominance leaves Camilla yearning for him to take her hard and thoroughly. Can she swallow her pride and propose the marriage she knows would be best for all involved, or will her stubbornness lead to disaster?
Quite Decided by Korey Mae Johnson
When eighteen-year-old Wenda discovers that she is to be married off to a nobleman easily old enough to be her grandfather, she concocts a desperate plan to avoid that fate. Lord Talus, who was like an older brother to her growing up, will marry her instead–she is quite decided on it.
The only problem with this plan is the fact that Talus refuses it outright. Wenda has grown into a beautiful woman, but he has known her since she was a child and he cannot bring himself to expose her to the dark, hungry, sexual side of him which she would see as his wife.
Talus underestimates the lengths to which Wenda will go to carry out her plan, however, and he finds a marriage with her forced upon him by false allegations that he has stolen her maidenhood in the night. For her part Wenda soon learns, to her dismay, that her new husband is well within his rights to bare his young wife's bottom and chastise her firmly for her scheming. Moreover, he intends to thoroughly enjoy every curve of her beautiful body once he feels the time is right to have his way with his new bride.
Publisher's Note: Lords and Ladies contains two erotic romance novellas which include spankings, sexual scenes, and more. If such material offends you, please don't buy this book.
"…the perfect mix of discipline and sexual tension culminating in extremely hot sex scenes that were both romantic and sensual and naughty at the same time." –Spanking Romance Reviews
"I love historical romance and these stories have a nicely described the setting and interesting characters. The addition of spanking is hot and not over the top. Sexy and sizzling, I highly recommend this book." –Reviews by Molly
Related