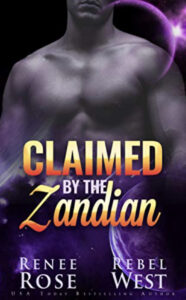 I CAN'T CLAIM HER…BUT SHE WILL CALL ME MASTER.
I was born blind. My genes are defective.
Unsuitable for breeding.
That's the only reason I don't claim the alluring human
we rescued from a slave auction.
I have no intention of mating her,
especially since she's meant for another.
But when she calls me Master, I can't help but take command.
And command I will.
"Sexy, steamy and lots of love."
"Words do no justice to the excellence of this outstanding romance."
"…one of my favorites in this series because the characters are so very real."
"the characters are likeable, the naughty bits are oh-so-naughty leaving no doubt as to who is in charge"
"She is bold and not afraid to go after what she wants and he is a bit of a tortured hero with a great heart. I loved them and their very special romance."
"…you don't want to miss out on this book!"
"more emotional and a real heart tugger than previous Zandian books"
Related