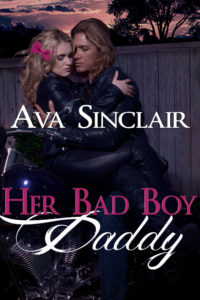 Q: We're here today to talk to the hero of Her Bad Boy Daddy, Jake Greer, one of the leaders of the Rebel Sons Motorcycle Club. But…wait…this can't be right. You aren't Jake…
A: No. I'm not. And I'm no hero.
Q: (confused) You are…?
A: Cain. Cain Heller.  I'm the leader of The Vipers. And let's just say our club isn't exactly "friendly" with the Rebel Sons.
Q: Oh…I see…I was expecting Jake. Um…where is he?
A: (crossing his legs and smiling) Who knows. And who the fuck cares? We don't need him.
Q: (pushes hair behind her ears and flushes). Well, all right. Cain. You look like a hero…tall, dark, with the shadow of a beard. But you say you're not a hero?
A: No. I'm the villain in this book, sweetheart. The hero you mentioned? (scoffs) An obstacle's more like it. See, he's got something I want, and I aim to get it back, and I don't care who gets hurt.
Q: Well, that's not very nice.
A: I'm not very nice. But that wouldn't stop me from showing you a good time. I've shown a lot of women a good time; that's why every woman in my club wants me. (pauses) You know, you ask a lot of questions, Miss … A nosy girl like you could benefit from a good, hard spanking.
Q: Oh, my….(flushes). Let's stay on track here, please. So you're after the heroine in this book, Carrie Lassiter. Why?
A: Because she's different. She's innocent, sweet … just the kind of girl I like to possess, train…corrupt. That Jake Greer? Sure he's not always on the right side of the law, but compared to me he's too soft. He wants to guide that girl, spank her, be her daddy, protect her… Me?  I want to break her. That's what a girl like that needs if she's going to survive in this world.
Q: You and Jake have a history, right?
A: You could say that. This isn't the first time he's gotten in my way. I had to deal with his dad years ago, may he rest in peace. (chuckles)
Q: I don't understand. You're a good-looking man. You could have any woman. Why this one?
A: Because she told me no. (leans forward) No one tells me know, sweetheart. The readers will find that out soon enough…(winks)
NSFW (Renee's Favorite kind!) Excerpt from "Her Bad Boy Daddy" by Ava Sinclair

He was fucking her hard. So hard.
"I'm not hurting you, am I?" he asked. "Not enough," she said. He lifted her off the sink and she put her arms around him. Jake carried her to the bedroom like that and laid her on the bed, driving into her with a ferocity driven by his need to possess her. Carrie was groaning and mewling beneath him, and reached for him when he pulled out.
"My baby likes it rough?"
She looked up at him, her eyes brimming with both innocence and desire. "Yes. Is that bad?"
"No," he said. "Turn over. Up on all fours. I want that ass in the air."
She complied. Her thighs were slick with her arousal, the flower of her newly denuded pussy open and hungry for his cock. But Jake had something else in mind. He pulled the leather belt from his pants.
"Are you my good girl?"
She looked back, saw the belt. He watched her reaction. Fear and longing. He doubled it in his hand.
"You want to see what you'll get if you disobey?"
She could only nod, her eyes pleading. No? Yes? They both wanted to know, to know how much she could take. Jake drew the belt back and brought it down hard across her ass. A welt immediately bloomed across her skin. She screamed, sank her face into the bedclothes. She was crying. But Jake could tell by how her body shuddered that she was also coming, and coming hard. He raised the belt again, this time bringing it down across the bottom of her ass, just above her thighs. Carrie did not break position as she gyrated her hips. He was strapping her ass for his own pleasure, for no other reason than he wanted to. And she was loving it, even as she screamed and clawed at the bedclothes and kicked her legs.
Two more blows, one higher on her bottom and one across the backs of her thighs. She was sobbing when he threw the belt aside and shoved his cock up to the hilt in her pussy. She was fever-hot and slick as an eel. And her cries turned to moans as her velvet walls sought to grip and hold him, pulsing so sweetly that he nearly came himself.
Jake grabbed her ass, feeling the welts, pinching them, telling her she was his, that she belonged to him, that she was his little girl forever and ever. He pressed his finger against her asshole as he fucked her, so tempted to push his cock into her there and then. But that was a special treat for another day, so he just pushed his finger against her twitching orifice and pressed as they came together.
Blurb
For twenty-year-old Carrie Lynn Lassiter, an evening at a biker bar was meant to be no more than a defiant walk on the wild side and an act of rebellion against a father who never loved her. But when she catches the eye of the leader of a ruthless outlaw biker gang, she soon finds herself in way over her head.
As second in command of The Rebel Sons, Jake Greer is all too familiar with the brutal tactics of the Vipers, the rival gang he holds responsible for his father's murder. When he stumbles upon a beautiful, vulnerable young woman running for her life from them, he doesn't think twice about rescuing her.
It doesn't take long for Jake to figure out that Carrie Lynn is no biker chick, but something about the sweet yet sassy girl leaves him aching to bare her little bottom, spank her soundly, and then claim her hard and thoroughly.
Carrie Lynn can't hide her need for Jake's firm-handed dominance, and soon enough she is begging for more as he brings her to one shattering climax after another. But Jake has powerful enemies who won't hesitate to use Carrie Lynn to get to him. Will keeping his little girl safe mean leading The Rebel Sons into a war they might not win?
Publisher's Note: Her Bad Boy Daddy is an erotic romance novel that includes spankings, sexual scenes, age play, and more. If such material offends you, please don't buy this book.
My author's Web page:
My blog: